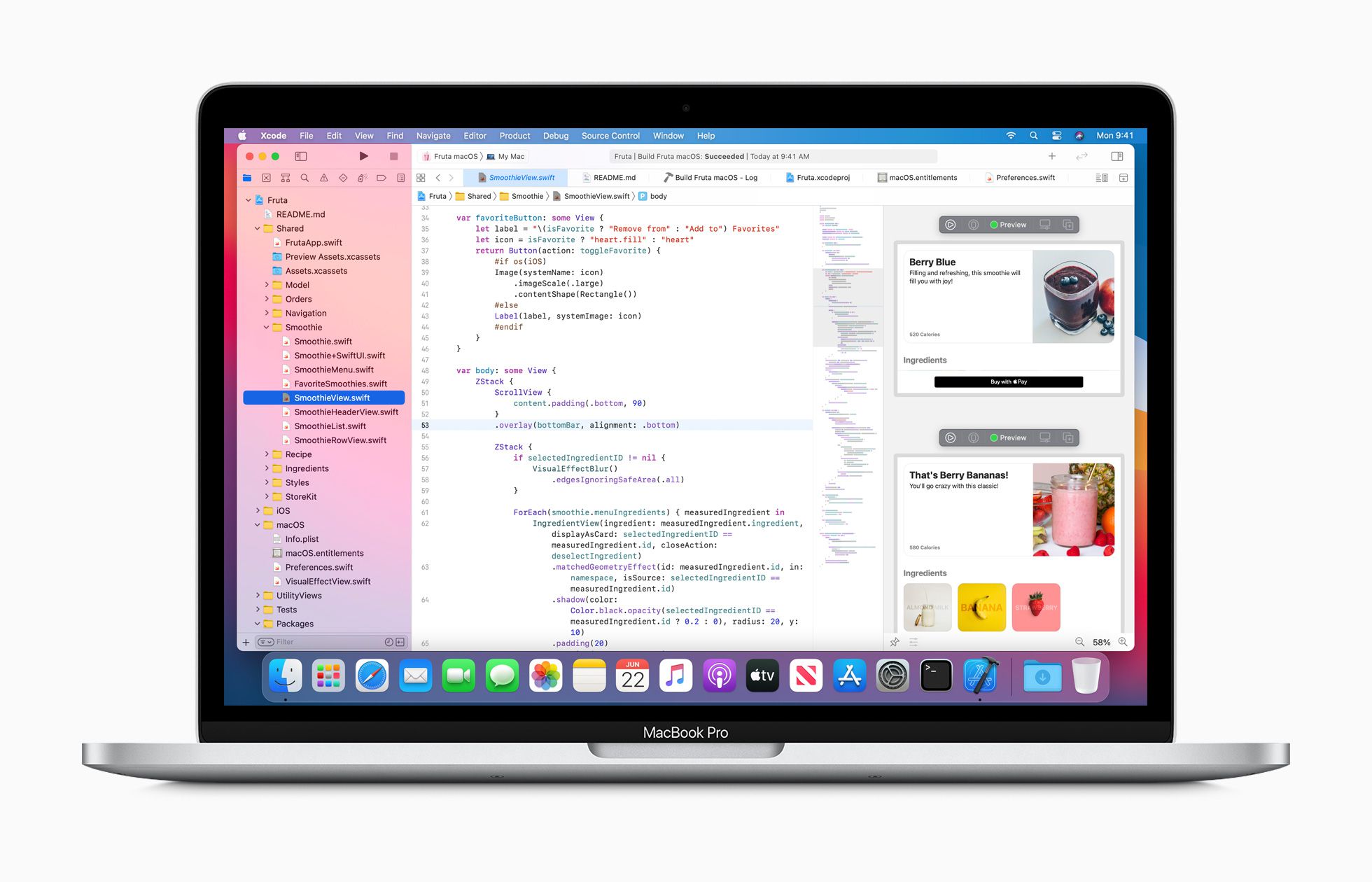 Apple introduces new frameworks and tools for developers, including Xcode 12
As part of WWDC 2020 this week, Apple introduced a slew of new APIs, frameworks and tools for developers, ranging from App Clips to Xcode 12 to a new SwiftUI API for building widgets that work on iOS, iPadOS and macOS.
Application extracts: New in iOS 14, app clips bring up information from relevant apps without forcing users to download an entire app. Apple describes app clips as a "small part" of an app designed to be discovered when it's needed. Once inside the App Clip, users can easily install the full app with just one click.
Widgets: iOS 14 offers widgets that can be pinned in different sizes to any home screen page, providing useful information at a glance. For this, Apple released a new SwiftUI API that allows developers to use the same code to create a widget for iOS, iPadOS, and macOS.
Find my network accessories program: In iOS 14, the Find My app supports finding third-party products and accessories with the new Find My network accessories program. This will allow users to use the Find My app to locate non-Apple devices, with end-to-end encryption. A draft specification is available for accessory manufacturers and product manufacturers starting today.
Xcode 12: Apple's developer tool has been redesigned to match macOS Big Sur. Apple says the new document tabs make opening multiple files faster, while browser fonts now match system size or can be set to small, medium, or large. Additionally, Xcode 12 creates default "macOS Universal" apps to support future Macs with custom Apple silicon. Apple today released the first beta of Xcode 12.
A new StoreKit tool in Xcode allows developers to simulate setting up subscriptions, in-app purchases, and refunds right on a Mac.
Safari for Mac adds support for the WebExtensions API used by Chrome, Firefox, and Edge, making it easier for extension developers to work with Safari and distribute them through the Mac App Store.
The App Store now supports Family Sharing for subscriptions and in-app purchases.
HomePod supports third-party music services.
Users can set default third-party web browser and email apps in iOS 14.
Developers now have the ability to detail their app's privacy practices right in the App Store for users to review, including what types of data the app can collect, whether that data is shared with third parties, and the possibility for users to opt out.
Apple describes several other new developer efforts in its press release, including the ability to "challenge" the App Store review guidelines starting in late summer.
Best Stories
Some users having external display connection issues with macOS Big Sur 11.1 and 11.2
Some macOS Big Sur users who are running Update 11.1 and the recently released Update 11.2 have experienced persistent issues with external displays, based on multiple reports on the MacRumors Forum, Apple Support Communities, Twitter and Reddit. There are at least two separate issues involved, but both relate to external display connections. The problems seem to have started with the …
IPhone 12 Colors: Choosing the Right Color
The iPhone 12 and iPhone 12 Pro arrived in October 2020 in a range of color options, with entirely new hues available on both devices, as well as some popular classics. The 12 and 12 Pro have different color choices, so if your heart is set on a particular shade, you might not be able to get your favorite model in that color. iPhone 12 mini and iPhone 12 The iPhone 12 mini and iPhone 12 …
IOS 11 bug: Typing 1 + 2 + 3 quickly in the Calculator app won't give you 6
A bug in the Calculator app built into iOS 11 is getting special attention this week, despite the fact that it has been around since iOS 11 was in beta testing. The problem is a calculator animation that causes some symbols to be ignored when calculations are entered in rapid succession. You can try it for yourself: type 1 + 2 + 3 then the equal sign in the Calculator app quickly. Because of…
Apple publishes FAQ to address concerns about CSAM detection and message analysis
Apple has posted an FAQ titled "Extended Protections for Children" that aims to assuage user privacy concerns regarding the new CSAM detection in iCloud Photos and communications security for the Messages features the company announced last week. "Since we announced these features, many stakeholders, including privacy organizations and child safety organizations, have expressed their support for …
Some users report excessive battery discharge after iOS 14.6 update
Following the release of iOS and iPadOS 14.6 last week, some users took to social media and online forums to note that their devices were experiencing excessive battery drain since installing the updates. software. The Apple Support Community and MacRumors Forums are rife with posts from users saying their device now drains faster after updating. A user on Apple …
Phil Schiller Says iPhone Was "Shaping" Ten Years Ago And Still "Unmatched" Today
To commemorate the tenth anniversary of the iPhone, Apple chief marketing officer Phil Schiller sat down with tech reporter Steven Levy for a broad interview on the past, present and future of the smartphone. The report first looks at the iPhone's lack of support for third-party applications in its first year. The argument within Apple was split between whether the iPhone should be a …
Apple Collaborates With Maroon 5 To Add Song "Memories" To Photos App
Apple has partnered with Maroon 5 to add the group's new song "Memories" to the Memories feature of the Photos app, allowing it to be used for creating photo slideshows, Billboard reports. "Memories" will be available as a soundtrack option for a limited time and is available to iPhone and iPad users running the latest iOS 13 and iPadOS software. Memories in the Photos app are created …
"Being James Bond" retrospective will be free to watch via the Apple TV app
Update 9/7/21: "Being James Bond" is now available to watch through the Apple TV app. Ahead of the theatrical release of the James Bond film "No Time To Die" on Oct. 8 in the US, a 45-minute retrospective titled "Being James Bond" will be available for free through the Apple TV app, according to Deadline. . The MGM story would feature Daniel Craig reflecting …
IPhone 13 lineup set to use Qualcomm's Snapdragon X60 modem with several 5G enhancements
Apple's next-generation iPhone 13 lineup will use Qualcomm's Snapdragon X60 5G modem, with Samsung to manage chip manufacturing, according to DigiTimes. Built on a 5nm process, the X60 offers superior power efficiency in a smaller footprint compared to the 7nm-based Snapdragon X55 modem used in iPhone 12 models, which could help extend the lifespan of the drums. With the X60 modem, iPhone …