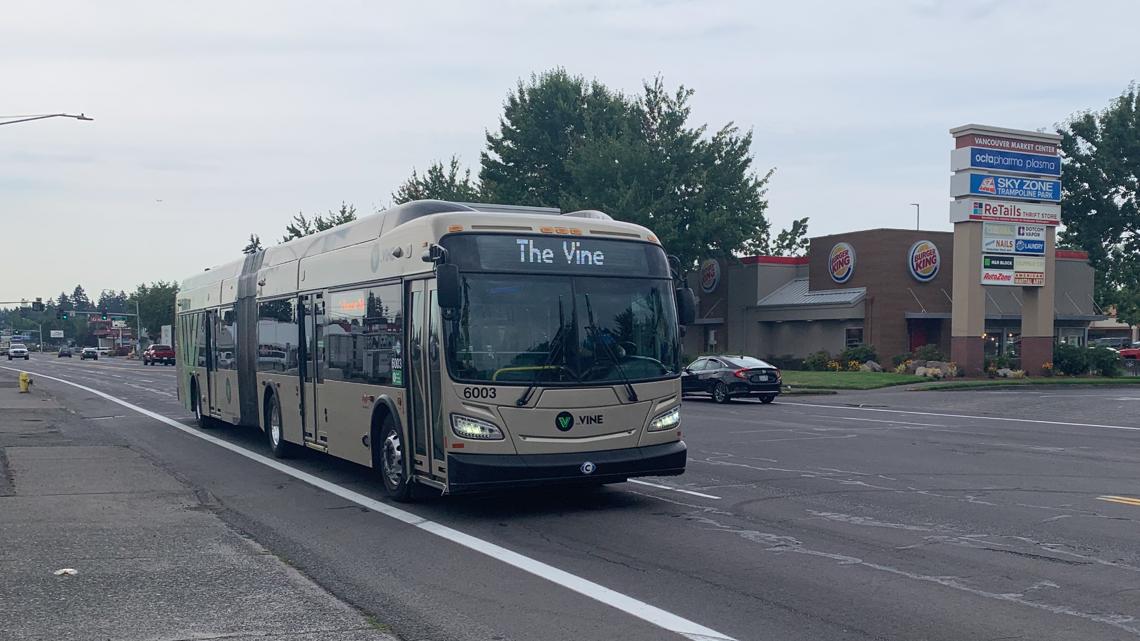 C-TRAN bus rapid transit system extends to Mill Plain Boulevard
The agency is expanding its bus rapid transit system to Vancouver's second-busiest transit corridor after seeing success along Fourth Plain Boulevard.
VANCOUVER, Wash. – C-TRAN's bus rapid transit system, The Vine, will expand to Mill Plain Boulevard in 2023.
The agency says Mill Plain is Vancouver's second busiest transit corridor and expects The Vine to significantly improve service. The teams inaugurated the transit line in September 2021.
This comes after success on Fourth Plain Boulevard, C-TRAN's busiest transit corridor, which averages nearly 2 million trips a year.
The Vine branch on Fourth Plain about five years ago to decongest. This has made traveling between downtown and downtown Vancouver much more efficient.
The Vine runs through Vancouver's most diverse neighborhood, known as the International District, where you can find around 150 businesses serving locals.
"It's a good, safe neighborhood to come and share with your family and some great family restaurants," Paul Burgess said.
RELATED: Portland Supports New I-5 Bridge, Rose Quarter Freeway Project
Burgess runs Fourth Plain Forward, an organization that promotes the International District and works to improve it. He said the neighborhood offers a wide range of reasons to visit, and it's growing.

"Certainly people are slowly starting to know that, and part of the job we do here at Fourth Plain Forward is to reinforce the opportunities and recognize that people should come," Burgess said.
The companies say the bus rapid transit system is part of what the area has seen through a few tough years.

"The Vine, I feel like it's progressive for our community, especially in terms of how COVID has hit everyone, and I feel like it's accessible, it's more easy for businesses and for the community to be able to travel," said Zaynab Afu, manager of the Hawaiian Style Grill on Fourth Plain.
Business is good at the restaurant and chef Chinta Reselap gives credit to the bus service.

"Because we are busy every day. Before it wasn't really like that, but now it's crazy," Reselap said with a laugh.
And The Vine isn't just good for the options it offers. Burgess said for many people the bus is a necessity.

"It's very difficult for a number of people in the community to own cars, and so The Vine has really opened up that transportation opportunity and really made a big difference."
RELATED: Waterfront Gateway District Plan in Development in Vancouver