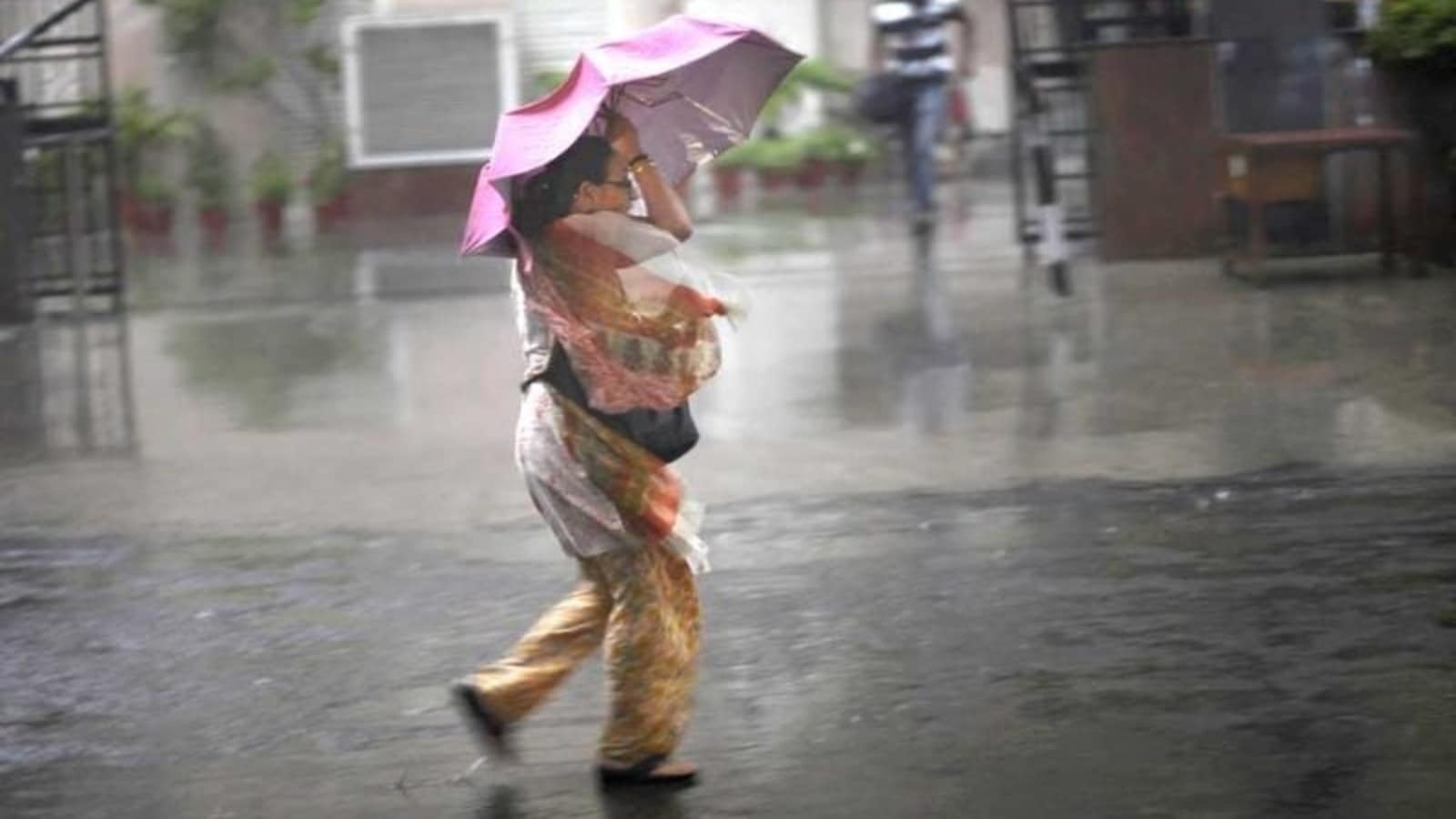 Delhi's maximum temperature stands at 35.1C, scattered rain likely overnight | Latest Delhi News
Written by Sharangee Dutta | Edited by Aryan PrakashNew Delhi
Delhi recorded a maximum temperature of 35.1 degrees Celsius on Saturday, a notch above normal, the Indian Meteorological Department (IMD) said. The minimum temperature, meanwhile, was recorded at 30.5 degrees Celsius, three notches above normal.
The temperature was recorded at Safdarjung, which is the nation's capital's base weather station. In Najafgarh and Palam, the maximum temperature stood at 36.7 degrees Celsius – the highest of all weather stations.
Relative humidity in Delhi was recorded at 68% at 5:30 p.m.
Mahesh Palawat, vice president (meteorology and climate change) of Skymet Weather, told the PTI news agency that scattered rains are likely to occur in some areas of the nation's capital this evening. The Met Department, meanwhile, said mostly cloudy skies with thunderstorms are likely over the nation's capital over the next few days.
IMD Delhi's latest bulletin has warned that water accumulation in low-lying areas of the city is a possibility.
The capital's air quality index (AQI) was recorded in the "satisfactory" category (99) around 7:30 p.m. Saturday, according to data from the Air Quality Research and Forecasting System and the weather (SAFAR).
An AQI between zero and 50 is considered "good", 51 and 100 "satisfactory", 101 and 200 "moderate", 201 and 300 "poor", 301 and 400 "very poor" and 401 and 500 "severe".
Close story
Amarnath tragedy: 1 dead, 200 Pune pilgrims rescued

A 52-year-old woman was killed, while 200 pilgrims from Pune and Pimpri Chinchwad regions were rescued near the Amarnath shrine in Jammu and Kashmir which witnessed a flash flood triggered by a downpour. The victim was identified as Sunita Mahesh Bhosale (52), a resident of Harihareshwar apartment, Dhayari. The Pune district administration is trying to establish contact with the remaining 53 pilgrims, officials said on Saturday.

Catchment Rain Raises Water Levels in Pune Dams

With moderate rains in the Pune district on Saturday, the urban areas as well as the catchments of the four dams around Pune received good rainfall. According to the Indian Meteorological Department, the region received bouts of intense rainfall within the city limits as well as in the ghat areas. The current water supply can meet Pune's needs for at least six months, PMC officials said. The Temghar Dam catchment area reported 100mm of rainfall on Saturday.

UP government plans to build 150 model villages in first phase, two in Lucknow

The government order (GO) issued by the additional chief secretary of the panchayati raj, Manoj Kumar Singh, had recently directed the District Magistrates (DMs) and all other relevant officials to come up with a six-month action plan to start working on the nine predefined themes. Gorakhpur has the largest number of village panchayats identified to develop as role models. The government also has a plan to reward employees and officials who help make a village panchayat a model.

Living dangerously: locals don't want to leave Pune's ramshackle wadas

Pune: Residents are reluctant to leave poorly maintained wadas and risk their lives as rains further weaken these ancient structures, despite the Municipality of Pune sending notices to evacuate these places. On Saturday part of Karande wada on Nehru chowk in Shukrawar peth collapsed around 7.20am. The fire crew rescued six people and no casualties were reported. Three families lived in the 80-year-old three-story structure.

Rough Road: Won't Pay Taxes, Make Our Own Roads: From Industrialists to MC

Angered by the pothole-riddled Bahadur Ke road and the failure of the municipality to undertake road reconstruction works, the industrialists, under the banner of the Bahadur Ke Textile and Knitwear Association, announced on Saturday that they would stop paying taxes to the civic body. President Tarun Jain Bawa said more than 500 textile and allied industry units are located on the road with an annual turnover of over Rs 10,000 crore.