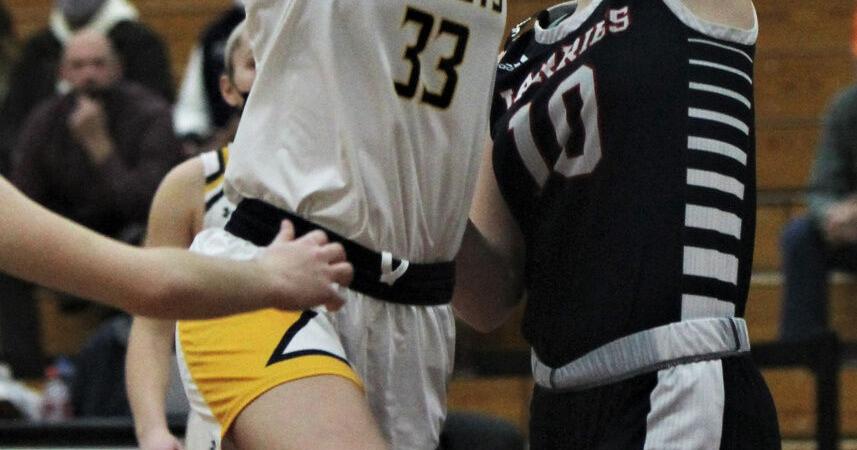 High School Sports: MW Girls offense matches defense to reclaim Class C title | Section-10
POTSDAM — Turnovers may have plagued the Madrid-Waddington Central women's basketball team in the Division 10 Class C final against defending champions St. Lawrence Central on Friday night, but it didn't prevented the Lady Yellowjackets from reclaiming the title.
"Before the game, we focused on two things, defending well and taking care of the ball. We defended very well tonight, but we also turned the ball over a lot. That's something I don't worry about. wasn't expecting, but St. Lawrence turned the ball over even more," coach Bryan Harmer said after his team overpowered Lady Larries 53-26 at SUNY Potsdam's Jerry Welsh Gymnasium to win the section title for the fifth time. in six seasons "For us to be able to overcome so many turnovers and still be in the lead like we have, we have to have done a lot of other things right."
"Our trademark is to be strong in defence, but we showed tonight that our attack is good too," he added. "We hit big shots all night as a team."
Junior Grace Plumley (5 rebounds, 3 steals) led the MW offense with 16 points, followed by senior Lily LaMere (5 rebounds, 4 steals) with a career-high 15, junior Natalia Pearson (8 rebounds) with 10, second Hailey Marcellus (8 rebounds) with nine and junior Lane Ruddy with three. Laney Tiernan, another senior, grabbed a game-high 10 rebounds.
The Lady Yellowjackets set the tone for their convincing victory early on, scoring the first eight points before taking a 15-2 lead in the first quarter. The teams traded baskets to open the second quarter, but MW continued to extend the lead to 25-9 at halftime and never looked back.
"We certainly took a while to respond to what they were doing against us in defence," said SLC coach Jenna Chamberlain. "We just couldn't do anything tonight."
Junior Brionna Foster scored a team-high nine points for SLC, which finished 12-10 overall. Junior Rylee Daoust (7 steals) had eight points, followed by classmate Rebecca Nezezon with four, senior Danaye Ramsdell with three and senior Jessica Horner (5 rebounds) with two.
The Lady Yellowjackets, who went 14-0 in winning the NAC East Division regular season banner, improved to 21-1 with the victory and will now be ready to compete in the Division 10 General Tournament this week. next, starting with a semi-final clash on Wednesday. MW will then head to the NYSPHSAA Class C playoffs and is expected to host the Section 7 champion at SUNY Canton in the first round on Wednesday, March 9 at 7:45 p.m.