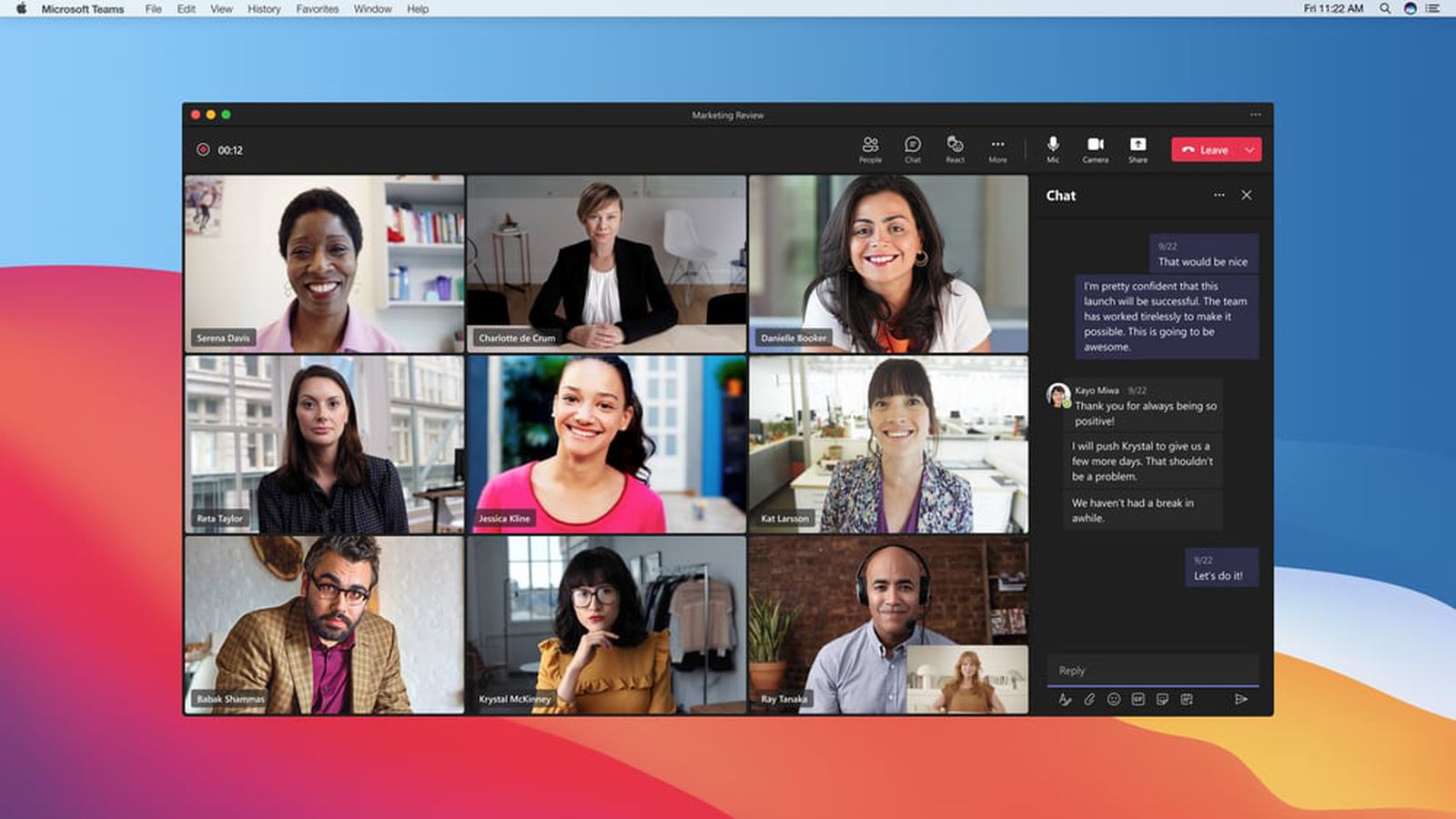 Microsoft Teams app has native Apple Silicon support
Microsoft announced today the launch of a native Microsoft Teams application optimized for Apple Silicon Macs, the application coming after several months of development.
Microsoft Teams is a business communication platform similar to Slack, offering text chat, video conferencing, file storage, app integration, and more. The native version of the app will bring a "significant performance boost" for more efficient use of device resources and an optimized Teams experience in calls and meetings.
At Microsoft, we're committed to delivering great product experiences that help our customers work easier and faster on their favorite devices. Our customers who use a Mac with Apple silicon have told us they want Teams optimized for their devices. We are rolling out a production universal binary version of Teams, which means it will work natively on the entire Mac lineup, including those with Apple silicon.
Microsoft says all Mac users will be automatically upgraded to the most recent Teams update, and the generally available version of the native Teams app on Apple Silicon Macs will be gradually rolled out to customers over the coming months. .
Related stories
Microsoft OneDrive gets native support for Apple Silicon Macs
Microsoft has been testing a preview version of OneDrive in Apple silicon since last year, and now the native version of the app is available to all OneDrive users. "We are excited to announce that OneDrive sync for macOS will now work natively on Apple Silicon. This means OneDrive will take full advantage of Apple Silicon's performance improvements," Microsoft said in a statement.
Discord with native Apple Silicon support rolling out
A version of Discord with native support for Apple silicon Macs is now rolling out to users, nearly a year and a half after the first Macs with Apple silicon chips were shipped to customers. Until now, Discord users had to rely on Rosetta 2 technology to use Discord on Apple's latest Macs. While usable, Discord on Rosetta 2, which translates apps designed for Intel-based Macs to run on…
Dropbox Finally Begins Testing Mac App With Native Apple Silicon Support
Dropbox has finally started testing a native version of its Mac app with Apple Silicon support, following widespread criticism from customers and users who initially thought it had no plans to take advantage of the latest Apple-powered Macs. Apple's custom processors. In October, official responses to comments on the Dropbox forums suggested that Dropbox had no plans to add support for Apple Silicon…
Microsoft releases preview of native OneDrive client for Apple Silicon Macs
Microsoft today offered OneDrive users a preview version of its OneDrive sync client for macOS, optimized to run natively on Apple silicon. Official support for M1 Macs should make the OneDrive Arm preview run faster on Apple's latest machines, as the client will no longer need to go through Apple's Rosetta 2 translation layer. OneDrive users must be in the office…
WhatsApp testing Mac app with native Apple silicon support
WhatsApp is developing an updated Mac app that supports native Apple silicon, with the company providing a beta version of TestFlight today to allow select Mac users to try out the new version of the app. Apple's silicon Macs can use Intel's Electron-based version of WhatsApp for Mac since 2020 thanks to Rosetta 2, but no native version is available. An Apple silicon…
Dropbox plans to add native Apple Silicon support to the Mac app in the first half of 2022 [Updated]
9:45 AM Update: In a response on Twitter, Dropbox Founder and CEO Drew Houston apologized for the confusion caused by the "not ideal" support responses and said that Dropbox "definitely supports silicon Apple" with a native version of Apple silicon scheduled for release in the first half of next year. Original article below. We certainly support Apple Silicon, sorry for the confusion. We have…
Dropbox Mac app with Apple Silicon support now available to all beta users
After limited testing of native support, Dropbox's Mac app designed for Apple Silicon is now available for all beta testers. Earlier this month, Dropbox began testing native Apple silicon support with a handful of beta testers, promising to expand testing to all beta users before the end of the month. Now, all Dropbox users who have "Early builds" enabled in their account preferences…
Nvidia updates GeForce NOW with native support for Apple Silicon Macs
Nvidia today announced that its GeForce NOW cloud gaming service is getting native support for Macs with Apple silicon chips. The updated GeForce NOW app for macOS will deliver improved performance and lower power consumption on Macs powered by the M1 chip family, including the latest MacBook Air, MacBook Pro, 24-inch iMac, Mac Studio, and Mac Studio models. Mac mini. Native Apple support…
popular stories
Top Stories: iOS 16 Beta 4, "Apple Watch Pro" rumors, and more
We're probably about six weeks away from the unveiling of the iPhone 14 lineup, and Apple continues to polish the iOS 16 update that will be released alongside the new hardware. testing period. This week has also seen rumors of the rugged "Apple Watch Pro" due to launch later this year, as well as some of the…
iPhone 14 continues to get performance boost despite retaining A15 chip
The standard iPhone 14 models will still have better performance than the iPhone 13, despite containing the same A15 Bionic chip, according to leaker "ShrimpApplePro". In March, Apple analyst Ming-Chi Kuo claimed that only iPhone 14 Pro models will feature the A16 chip, with standard iPhone 14 and iPhone 14 Max models expected to feature the chip. A15 like the iPhone 13. In April.. .
Intel to Introduce Wi-Fi 7 in 2024 as Apple Plans Imminent Move to Wi-Fi 6E
Intel plans to install its next-generation Wi-Fi 7 (802.11be) technology in devices by 2024, reports ETNews. Wi-Fi 7 is the successor to Wi-Fi 6E (802.11ax), delivering twice the data processing speeds of 5.8 Gbps and more stable 6 GHz bandwidth stability, as well as support up to 36 Gbps when working with data. Intel plans to expand its Wi-Fi 7 development efforts before…
Apple's online store is currently down in some countries [Updated]
Apple's online store is currently down in some countries including US, Canada, Australia, France, Germany, Italy, Spain, UK, etc. The downtime is not global as the store is still operational in some other countries. "We are updating the Apple Store," the store page reads, as usual for downtime. Apple advises its customers to "come back…
Apple adds eight more Macs to its list of vintage products
As expected, Apple today updated its vintage product list with eight more MacBook, MacBook Air, MacBook Pro, and iMac models released in 2015 and 2016. Notably, the first MacBook Pro models with Touch Bar are now listed. like vintage. Apple introduced the Touch Bar in October 2016 as part of a complete overhaul of the MacBook Pro. Apple has since removed the Touch Bar from high-end…
VMware Fusion Tech Preview brings Windows 11 to Macs Apple Silicon
VMware announced this week that its latest VMware Fusion update brings Windows 11 support to Intel and Apple Silicon Macs. Available as a free technical preview, the 2H22 version of Fusion will finally allow Apple Silicon Mac users to download and use Windows on their machines thanks to virtualization. Features include support for Windows 11 with 2D GFX and networking, installation of VMtools for…
Apple is expanding its Apple TV gift card offer to more countries
Apple has extended a previously exclusive US-exclusive Apple TV Gift Card offer to more countries around the world, offering customers a gift card in addition to the purchase of an Apple TV 4K or Apple TV HD. The original offer launched for US customers last month, giving shoppers a $50 gift card with the purchase of an Apple TV. Following the closure of the Apple Store in several countries, Apple has…