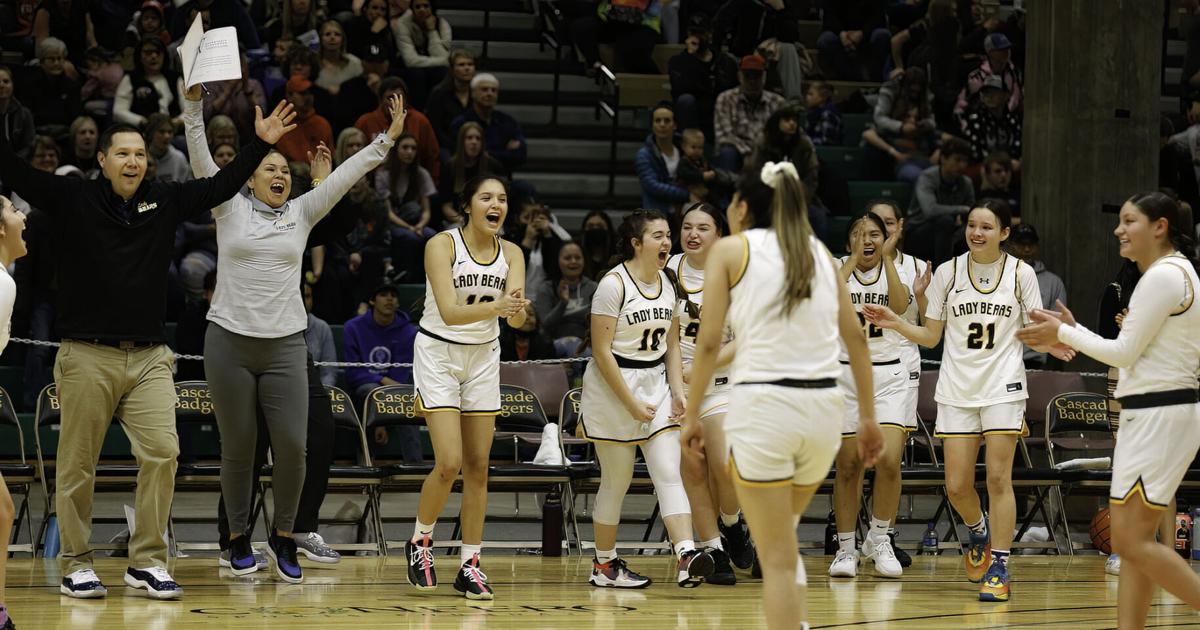 State C Women's Basketball: Box Elder and Roy-Winifred win championship rematch, Twin Bridges and Ekalaka survive first-round consolation matches | Girls basketball
GREAT FALLS — Roy-Winfred and Box Elder meet again this season, this time in the Class C Women's Championship on Saturday at 7:30 p.m. at the Four Seasons Arena.
Plentywood and Saco-Whitewater-Hinsdale will meet Twin Bridges and Ekalaka in the consolation round of the state's Class C women's basketball tournament after Saturday morning.
Roy Winifred 34, Plentywood 31
Roy-Winifred's Laynee Elness fouled out with 3:50 remaining in the fourth quarter in the Outlaws State Semifinal Friday night at Four Seasons Arena. Elness had scored a team high of 14 points and yet they still trailed Plentywood by five points.
But then Megan Bergum stepped in. Bergum hit three 3-pointers in what remained of the fourth quarter to help the Outlaws not only come back against the Wildcats, but also earn a spot in the Class C Women's Championship.
Plentywood were led by eight-point efforts from Liv Wangerin and Emma Brensdal and a tough defense against which Roy-Winifred had struggled to find momentum for much of the game.
But Bergum's timely baskets proved enough for the Outlaws defense to come into play in the final minute and delay any attempt at an equalizer by the Wildcats.
Roy-Winifred (26-0) remains undefeated and will face Northern C Box Elder for the championship at 7:30 p.m. Saturday.
Plentywood (23-2) will face Twin Bridges in a losing match on Saturday morning.
Box Elder 58, Saco-Whitewater-Hinsdale 53
Box Elder's Kyla Momberg broke in for 30 points to lead the Bears to a 58-53 victory over the Saco-Whitewater-Hinsdale Mavericks on Friday night in the first of two Class C semifinals.
The Mavericks were trying to make a state championship game for the second year in a row. The Bears, meanwhile, were hoping to make a comeback trip for the first time since winning the state title in 2018.
Momberg, who had helped her team to a first-round victory in many ways not always reflected on a score sheet a day earlier, showed up everywhere on Friday as she immediately took control of the jump with two quick baskets. She had 21 at halftime as the Bears took a 30-27 lead.
But the Mavericks wouldn't leave. They kept coming back to tie and draw by a point or two, but the Bears always found an answer with timely scoring and a teeming defense on the killing ground that was extremely effective in disrupting passing lanes. Mavericks and smash the balls.
The Mavericks (22-3) got 16 points from Jaycee Erickson, 14 from Teagan Erickson and 12 from Paige Wasson.
The Bears (21-2) will face the championship winner Roy-Winifred on Saturday. The Mavericks will face Ekalaka in a losing streak on Saturday morning.
Ekalaka 68, Christian Manhattan 63
Ekalaka trailed by three at halftime against Manhattan Christian, but used a 17-9 streak in the third quarter to take the lead and ultimately eliminate the Eagles on Friday morning in the consolation round of the women's basketball tournament. class C.
After battling in both their district and divisional tournaments, including divisional challenge play to even make the state tournament, the Bulldogs' resilience showed up again. They were led by eighth-grader Nasya O'Connor with 21 points and nine rebounds. Juniors Heidi LaBree had 17 points and Tyra O'Connor added 10 for Ekalaka.
Manhattan Christian junior Grace Aamot scored 25 points and Ava Bellach 21. Rookie Bella Triemstra grabbed 10 rebounds. The Eagles end their season 23-4.
Ekalaka (21-6) will face Saco-Whitewater-Hinsdale on Saturday morning.
Twin Bridges 48, Melstone 40
After a three-year hiatus, Twin Bridges made their return to the state tournament this year. Coach Hannah Konen admitted after their first-round loss to Saco-Whitewater-Hinsdale that they may be suffering from nervousness.
They bounced back Friday by shaking those up and extended their stay at the 2022 Class C women's basketball tournament a bit with a 48-40 win over Melstone (22-4) on the consolation side of the bracket.
Melstone had a strong shooting effort from beyond the arc with 30 of his total points coming from long range. They were led by Koye Rindal who hit six three-pointers en route to his team with 18 points. Draya Wacker added nine points and nine rebounds for the Broncs.
Allie Dale led Twin Bridges with 21 points and eight rebounds. Kyle Pancoast scored 14 more points and pulled out 16 rebounds to score a double-double.
Twin Bridges (19-6) will play Saturday morning against Plentywood. They are still looking for their first trophy since 2017.
This story will be updated.