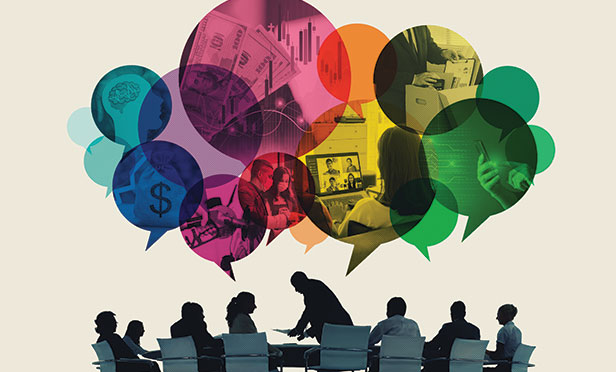 The pandemic changes the relationship between C-suite and brokers
The pandemic has been a watershed event for the benefits industry, reshaping what benefits advisors sell, how they sell it, and how they communicate with clients.
"There has been a 180 degree shift in priorities and how we approach benefits since the pandemic began," says Jamie Nagle, vice president of people success for Artemis Health in Salt Lake City. "Before the pandemic, many C-suite members were reluctant to embrace remote work, and many worried that productivity would decline. Instead, we've seen that employees can be successful working 100% remotely, and it can also become a successful recruitment strategy. »
Most brokers adapted quickly and successfully to the new realities.
Related: Remote work: When hybrid is the answer to employee pain
"We did a lot more virtual visits and made sure they knew we were protecting them from the changes that were happening," says Kim Eckelbarger, founder of Tropical Benefits in New Port Richey, Florida. "We have helped many people obtain PPP loans, PPP rebates and ECR credits. We have done this while designing infectious disease policies to stay current with required protocols.
"We cover customer needs. Some organizations want personal tours, and some are content with virtual tours. Remote workers have become much more common and our customers have learned that many roles can be effective in a remote environment. Technology is being embraced more than ever, and the team is spending a lot of time building portals, making videos, and acting as a call center. »
As the pandemic subsides, brokers are finding their place in a world that might have been unrecognizable just a few years ago.
"We went from a record unemployment rate of 14.7% in 2020 to 3.6% in June," says Maggie Novo-Chavarry, senior director of ADP Strategic Advisory Services. "The labor market remains strong and U.S. employers added 372,000 jobs in June. Workers are always in the driver's seat, so employers have had to get creative to attract talent, stay competitive and retain employees. On top of that, they had to navigate numerous regulations that result in changes to employee health plans.
In a recent study, 1 in 3 employees said the top reason for looking for a new job was better pay and benefits. The second reason was flexibility, or a better work-life balance. "Employers must continue to navigate the difficult road ahead and rethink the impact and value of their benefits," she says.
This new environment caught the attention of the C-suite – and not just the HR manager. One of the biggest paradigm shifts for brokers is communicating with multiple C-suite members, who often have different expectations.
"In our normal pre-COVID business, we typically dealt directly with core HR staff, and only with C-suite people during the refill period," says David C. Smith, senior vice president at eBen. "But since COVID, we've noticed that even employers with more than 500 employees have started asking us directly about programs like P3s, layoff and benefits rules, and even more financial modeling. advanced costs based on changes at that time. As a result, these trusting relationships have become more direct through this experience.
Read more: Reinventing the C-suite: Strong social skills are becoming increasingly important
Nagle agrees, adding, "HR is very much part of the C-suite and should be treated as such. By disconnecting the two, you limit the success of the brokerage relationship with benefits. I see a strong collaboration in the C-suite with the HR Director or the CHRO. The personnel team, CEO, and CFO all need to have a close relationship, as labor and benefits are a significant expense and a critical aspect of the employee experience at a company. There needs to be a well-coordinated and thoughtful approach between the personnel function, the C-suite and the brokers. This relationship will help everyone understand why we need to do certain things and provide a solid business case, using data to support proposals and decisions. »
The pandemic has changed both how brokers talk to the C-suite and what they talk about.
"Before COVID, almost all meetings were live, with occasional teleconferences or virtual meetings," Smith says. "All have moved to phone or virtual during the pandemic, but even today about half of our meetings that were live are now virtual, although many are enjoying in-person meetings more with the return to normal. But the transition hasn't been too hard – our clients have made this transition to Zoom, Teams or WebEx quite seamlessly, and our team has done well.
With more C-suite members involved, a wider range of topics are on the table.
"We're now talking about inflation, a looming recession, gas prices and their inability to find and retain help," Eckelbarger said. "All of this makes benefits more important than ever to the organizations we serve."
A lasting legacy of the pandemic is a renewed interest in mental health.
"Almost everyone is worried about mental health benefits and how to make sure their employees know about their benefits and their relative value," Smith says. "I think the pressure to keep good employees, the pressure they feel to increase their income due to both competition and inflation, and their general concern to find a better work-life balance have been at the forefront of their concerns. It's not just the big employer. There have been far more requests for benchmarking data – not opinions – and a greater focus on polls to understand what employees want to see their benefits.
The C-suite recognizes the heightened importance of benefits during the Great Resignation.
"To recruit top talent, you now have to embrace that distant mentality, which means you're not creating advantages for one location," says Nagle. "You are developing a national strategy for your employees; you can have five employees in one state and 150 in another. You need to think about how to maintain the same level of benefits across your entire population so no one feels like they are getting less than others. Brokers can help the C-suite understand how benefits should be distributed and move these new ideas forward. »
Read more: Study pegs return on investment for employer-sponsored health insurance at 47%
With the increased attention of the C-suite, the most important issue for brokers to keep in mind can be summed up in three letters: ROI.
"Companies spend a lot of money on benefits, so they want to make sure the investment is worth it for both the organization and their employees," says Nagle. "Benefits is an investment in your people, and if you value your team members, you need a strong benefits package. Employers look at claims history as well as long-term and short-term disability to see if employees are using these benefits in a way that is more costly for the team member but results in poorer outcomes. If so, then employers are wondering what they need to do to help them and keep them healthy.
The C-suite also expects full transparency.
"A lot of times it feels like brokers aren't aligned with the business just because some of them work on commission, so the more the employer pays for their benefits, the more the broker earns," Nagle adds. . "The C-suite may think that the broker is simply recommending the partner because they have a contract with them and will get more money if they bring more business to the partner. When a broker offers a solution to the employer, having data to show why they recommend it as a point solution will help build that case My advice is that brokers rely on data to be effective in developing analysis benefits when communicating with the C suite."
One of the most important lessons about working with the C-suite is one that brokers know from the start.
"The pandemic and our response to it has made one of our main messages clear to our clients: we are not brokers, we are consultants," Smith says. "This shift in the 'trusted advisor' relationship means they understand that we are part of their team and that we give them our best advice."