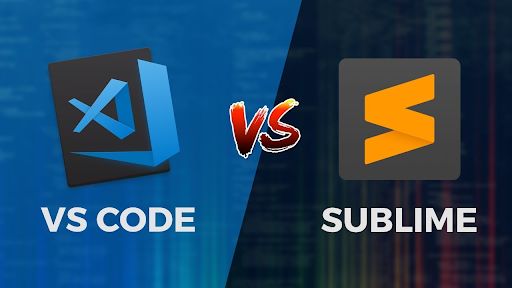 Visual Studio Code vs Sublime Text: which editor to choose?
Are you looking for a highly flexible text editor with superior IDE features, or do you want the most efficient text editor that gives you incredibly fast performance? If the answer is yes, then there are two multilingual, multi-OS programming text editors available in the market – Visual Studio Code and Sublime Text.
Both of these text editors can run smoothly on Linux, Windows, and Mac OS.
In this article, you'll learn about some of the benefits of these two editors so you can make an informed decision on which one to choose for your workflow.
Visual Studio Code or Sublime Text: Which is Better?
Here, you will learn in detail about the different advantages that these two text editors offer so that you can choose one that suits your needs.
Visual Studio Code
Microsoft initially released Visual Studio, which is currently one of the best web development IDEs available in the market. It supports some of the most popular languages, such as JavaScript, TypeScript, and Node.js.
The company wanted to motivate developers to build microservices applications on its Azure platform. Therefore, Microsoft launched Visual Studio Code to target JavaScript developers who want to use full-fledged development for server-side scripting.
Visual Studio Code is a free text editor from Microsoft that can run smoothly on Mac OS, Windows, and Linux.
Some of the crucial benefits of this text editor are as follows.
Simplified layout
It has a simple and easy-to-use layout that lets you write or edit any code without distraction.
It lets you open multiple editors at the same time so you can edit side-by-side.
It has a minimap (it's a code preview) that gives you a complete overview of your source code, making it easy to navigate.
More features
This powerful text editor allows you to edit codes in a range of languages ​​such as CSS (it's the built-in language), Python and C# using extensions.
Therefore, if there is a cross-language reference or defect, you can detect it quite easily.
Intelli-Sense
This high performance text editor can understand any code snippet that is not completed by the programmer.
In addition, variable declarations and common variable syntaxes are done automatically.
This is very useful because if the user forgot to declare a variable used in the program, the intelli-sense will declare it automatically.
Cross-platform support
Previous vendors only supported Linux, Mac, or Windows systems individually.
However, Visual Studio Code is a true cross-platform editor that can work smoothly on all three platforms.
Extension and support
Visual Studio Code generally offers support for all programming languages.
However, if you want to use a particular programming language that is not supported by it, you can download the extension to use it.
Also, if you use an extension, it slows down the text editor because it runs like another process.
Deposit
This text editor is connected to Git and also allows you to connect it to any other repository.
It guarantees secure and fast storage of your code, which is important to save it or access it when needed.
Web Support
This text editor comes with built-in support for web applications. This helps you build feature-rich, high-performance web applications using Visual Studio Code.
Hierarchical structure
In this text editor, code files are placed in files and folders. Code files also have their files which are sometimes needed to run very complex projects.
You can delete these files as needed.
Endpoint support
Sometimes the programmer needs to start directly from the root of the directory for a particular action.
The integrated terminal/console allows the programmer support not to switch between two different screens for the same.
Multi-projects
The Visual Studio Code text editor allows you to open multiple projects that have multiple files or folders at the same time even if those projects are not related to each other.
sublime text
Sublime Text is one of the most popular commercial source code editors developed by Sublime HQ. The code editor supports various programming and markup languages.
You can download the code editor for free. However, for continued use, you must pay an $80 license fee. It also works on all three major platforms Linux, Windows, and Mac OS.
Some of the benefits of using Sublime Text are as follows.
Amazing symbol analysis
It has a built-in symbol analysis function. Symbol analysis is a term used for keyword research in your code.
It lets you quickly find methods and class names in your code.
Extremely fast
Compared to Visual Studio Code, this editor is very fast, which helps you write courses in record time.
This editor opens very quickly and helps you perform searches in record time.
As Sublime Text is a native application, which is written in C++, you will find that its footprint is very small.
Better Vim bindings
It allows you to use the main discoveries of Vim when you write the codes, which allows you to take advantage of some of the modern features of this text editor, such as file tabs and sidebar files.
Additionally, programmers find that the Vim support offered by Sublime Text gives them greater precision compared to Visual Studio Code, allowing you to write code faster.
Extracts
This functionality is similar to what you find in Visual Studio Code. However, it offers additional support to create your own or install others via extensions.
Summary
There is no unanimity of opinion among programmers regarding the best text editor available in the market and everyone has their own choice.
Even a single programmer can choose a different text editor based on the requirements of his latest project. As no text editor offers the perfect solution for all development environments.
Therefore, it all boils down to your personal preferences, current needs, and which text editor fulfills its optimality.